Detailed Itinerary
Day 1: Dehradun – Sankri (Drive – 200kms, 8hrs)
Arrive at Sankri Village, meet our host at Meraki Triangle, Homestay. If time permits you can explore this beautiful village or just walk around Sankri. Sankri is 200 kms from Dehradun.
Day 2: Sankri – Taluka – Seema (Drive – 12kms | Trek – 14kms)
There is a 12kms jeepable road connecting Sankri with Taluka.
The trail goes through dense forest of chestnut, walnut and chinars. Taluka village is situated at an altitude of 2,410mts above sea level. The trekking route from Taluka to Seema stays on the right side of Supin River. You'll need to cross wooden bridges over streams and do occasional climbs which doesn't last for long.
While trekking you will encounter couple of alternative routes that leads to different Jaunsari villages of that region, avoid them and stick to the route. After 8kms of trekking you will see a beautiful village with unique wooden houses on the left side of the river, Gangad Village. It takes another 2 hours from this point to reach Seema. There is a GMVN Guest House at Seema along with couple of shops and houses.
If you prefer Homestay Accommodation then we will cross the bridge and hike to Osla Village. Satellite Phone is available at Osla Village.
Note: If there is a blockage due to landslide then you must cover the remaining distance by trekking because jeep can only drop you as far as the route is open. It is an easy walk which can be done in just 3hrs. This trekking stretch won't tire you up but rather prepare your legs for the journey ahead.
Day 3: Seema – Rainbasera (Trek – 10kms)
Start off early for a long day of trekking. Follow the trail on right after walking past Seema. Do not take the bridge over Supin River on left, that route leads to Har ki Doon Valley. After gradually climbing for 2hours Dev Thatch meadow comes into view. Dev Thatch is a beautiful meadow 2kms in length but not that wide. It is a delight to walk on this meadow mainly because the route turns out demanding from the end of Dev Thatch meadow.
After crossing Dev Thatch you will have to cross couple of wooden bridges over the gushing Ruinsara Gad. Ruinsara forest area is rich in vegetation but it keeps on receding as you climb up.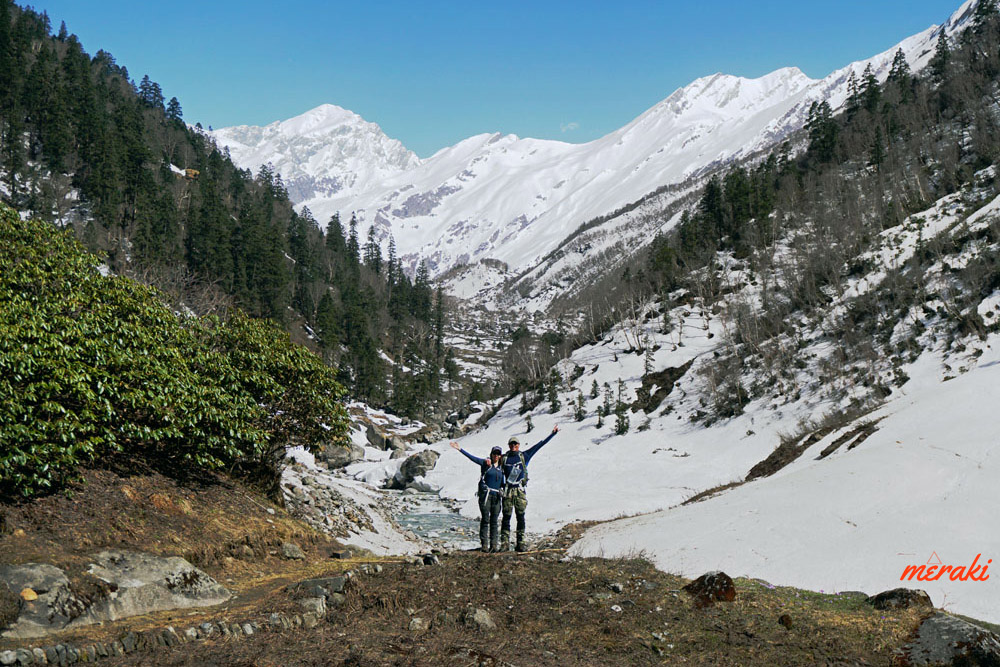 Day 4: Rainbasera – Ruinsara Tal (Trek – 8kms)
Ruinsara Tal is one of the most scenic lakes of Garhwal Himalayas overlooking lofty Himalayan peaks. Surrounded by birch trees, Ruinsara Tal (3630mts) makes a perfect campsite but this region is exposed to cold winds.
The lake is surrounded by bhojpatra trees which adds to the lake's beauty. The trek to Ruinsara Tal from Rainbasera is a pleasant walk and not tiring.
Day 5: Ruinsara Tal – Bali Pass Base Camp
Cross the bridge near Ruinsara Tal and climb to reach Thanga meadow. Swargarohini group of peaks look staggering from this region as you climb on its opposite side of the mountain. While reaching Odari won't take much time but reaching Bali Pass Advance Base Camp will involve a long walk on the sharp ridge exposed to crevasse area and lofty peaks on either side. Traversing snow will also be required while reach base camp. You can also trek to advanced base camp if well fit and acclimatized.
Day 6: Bali Pass Base Camp – Bali Pass – Damini Forest Camping Ground (Trek – 14kms)
Start at around 4am so as to reach Bali Pass before any sudden weather change. This is the toughest day of the Bali Pass Trek and it requires assistance of technical gears like crampons and rope. Watch out for crevasses after crossing Advance base camp. Widespread and steep snowfields will take you Bali Pass (4950mts). Trek down towards the yamunotri side. There is one steep and tricky descent involved while reach Damini camping ground.
Day 7: Damini Forest Camping Ground – Yamunotri – Janki Chatti (Trek – 10kms | Drive – 12kms)
Trek down from Damini to the sacred Yamunotri temple, one of the Char Dham of Uttarakhand and source of the holy Yamuna River. After visiting the temple, trek down to Janki Chatti. Trek service ends at Janki Chatti.